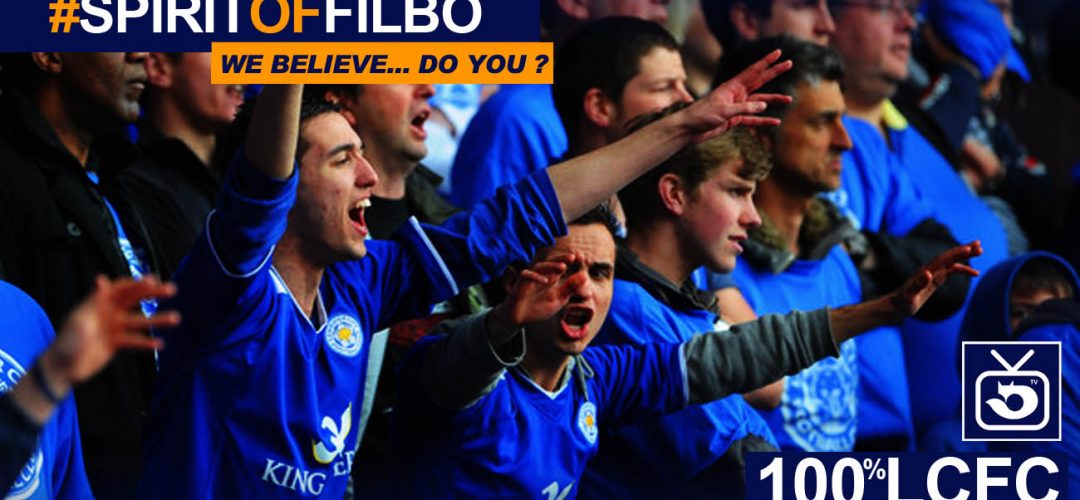 SPIRIT OF FILBO.
Today 100%LCFC Launches our rally cry to unite all Leicester City fans. With 11 games to go, we need to stick together.
Be as one. And we call this The Spirit of Filbo. See what Alan Young thinks by watching the Video Below…
We have been through thick and thin together … We stood in the rain at stoke as we went down to League one, and we cheered as we got Promoted back into the premier league.
Some of us watched Tony James poke a ball in a net, some of us invaded Filbert street, Most of us were on the King Power… grass last may, some of us cried at Wembley, in defeat AND in victory. But there is one thing we all love, and that is Leicester City Football Club, so from HERE and UNTIL the end of the season, we ask YOU ALL to back the manager, Back the lads and BACK YOUR FELLOW FANS. WE are Leicester City. Pearson, Cambiasso, Kasper etc are here for a short time, but YOU and US will be here in 1961, 1976, 1982, 1989, 1994, 2002, 2014 and 2020…
WE Are the Club, so remember the good days, the GREAT days and pull together as the SPIRIT OF FILBO washes down on us and we do the GREAT ESCAPE TOGETHER !
Are you with us ?
COMPETITION TIME… Do You Want To WIN a SIGNED Spirit of FILBO prize ? Click and Watch the video below to see how and fill out the entry form below