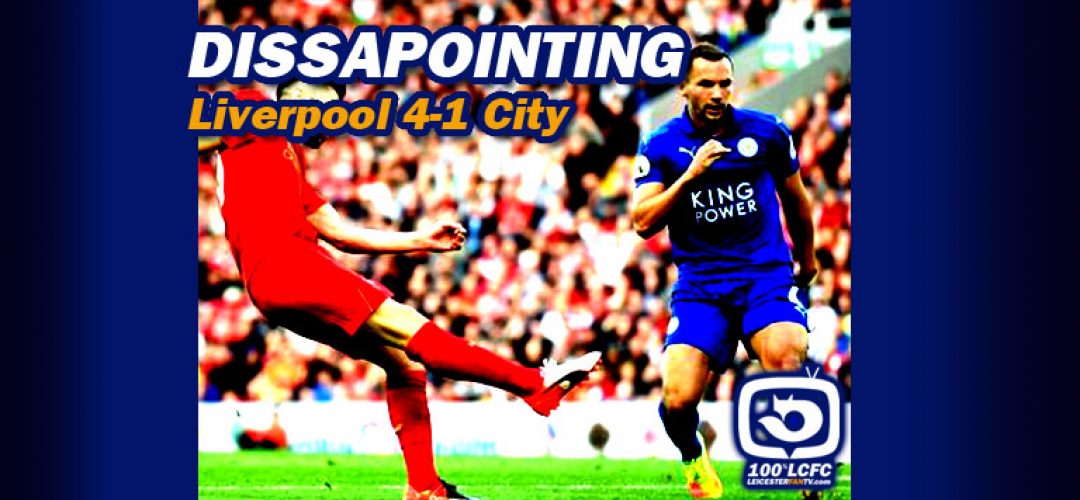 By Scott Davies @FlipFlopFlyer
City were the first team to visit the newly revamped Anfield as 54000 fans packed in to see Liverpool take on Champions Leicester. In this same fixture last season, the Foxes came away with nothing after a Benteke goal gave City their second defeat of the season on Boxing Day.
Liverpool have been a bit of a Jekyll and Hyde team in recent seasons, but it was Leicester's turn to put on a horror show. City just didn't get going and they were a far cry from the team they were last season.
Liverpool pressed Leicester from the off and a lack of concentration from Morgan on 13 allowed Roberto Fermino space to slot the ball in the bottom corner as Schmeichel was rooted to the spot. Morgan was sucked out of position and Liverpool made City pay.
On 26 Schmeichel pulled off a point blank save from Sturridge but just 4 minutes later, The Reds doubled their lead. Sturridge again worked his way into the box and played in Sadio Mane who poked the ball past Schmechiel. The Dane got something on the ball, but it wasn't enough to stop the goal.
Simpson hobbled off on 34 with Luis Hernandez replacing him.
On 38, City were handed a lifeline after Mingolet allowed Okazaki to dispossess him and the ball fell to Vardy who scored from close range and City saw the half out at 2-1 down.
Okazaki made way for Ahmed Musa at half time in an attempt to add some more pace and power to the front line. Frustratingly, the £16m man never really got going with his passing somewhat wayward.
Leicester huffed and puffed, but nothing seemed to be coming off for them. Liverpool increased the pressure and on 56 all but put the game beyond the Champions. Sturridge had a shot saved after being set up by Fermino but City failed to clear their lines. The ball fell to Lallana who blasted a worldy into the top left corner. A sublime finish from the England man.
Ulloa came on for Albrighton and Musa was switched to the wing. He looks more like a winger than a striker, but he never quite settled into the match.
Leicester to their credit kept going and there were some moments that on another day the shots go in. Vardy had a one on one saved, Mahrez and Drinkwater had deflected shots just wide, but nothing was coming off. As City continued to press, Liverpool hit on the break on 89 as Mane picked up the loose ball with just Schmechel ahead of him. Schmeichel raced off his line and failed to make the tackle as Mane rounded him, broke into the box and played it in for Fermino to put it into an empty net. Game Over.
Mahrez was poor, Drinkwater forgot his boots, Armartey looked lost and Musa needs time (and needs to be more greedy).
A seriously bad day at the office and we will now see what Raneiri is made of. He will have to earn his money this season. But as he says, stay calm!
Bring on Brugge, Dilly Ding Dilly Dong!
Man of the Match – Christian Fuchs.
Do you agree with Scott's Match Verdict ?