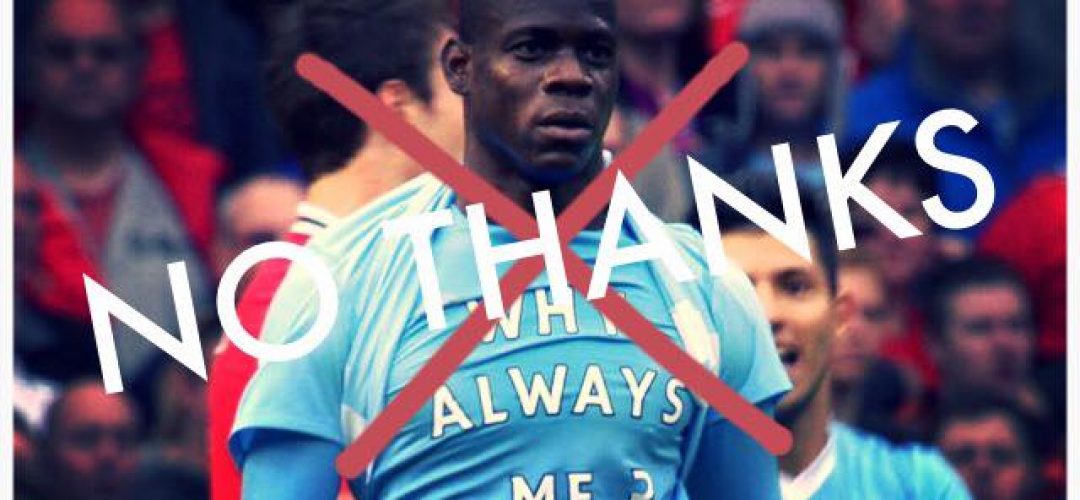 Mario Balotelli ?
It's a massive NO THANKS from the Leicester City fans….
The transfer rumour mill has linked Super Flob with us and the fans have given the honest views on the possibility….
Mark Clements
"No thanks ! Will instantly think he's bigger than the club and bring a bad vibe to the dressing room"
Leigh Riley
"He obviously has talent but no work ethic. Ranieri isn't stupid, and I can't see him signing him. Journo's putting 2+2 together making 5 as usual.
Only way I can see this happening is if we're about to let Kramaric or Ulloa go – which I find unlikely. No room for 5 1st team strikers, that's why Nuge had to go.
Seem to remember we were odds on to sign Carlton Cole as well remember?"
Dave Wilson
"So if balotelli came which of our strikers wouldn't people want to see on the bench. We have hardworking strikers who press from the front, never give up on lost causes and get the team going and fans.
Signing balotelli would be a massive mistake. Never bring in someone who will think he is bigger than the club."
James Brooksby
"Quality player who would improve the squad massively. But would he wreck the team spirit and cause problems. I reckon so but everybody deserves a chance."
Matt Swee
"As a Liverpool fan you're better off with Vardy, Balotelli is good when he is arsed on his say so. Leicester should stay clear, hope we get rid to China."
Phil Holloway 100%LCFC Editor
"IMO he would be a massive disruption on the team ethic we have at Leicester. He obviously has some talent, but we simply don't need that sort of distraction. We have a cracking attacking lineup and with INLER signed up I think we are about there for a very interesting and positive season. No Thanks Mario for me !!"
Dean Stevens
"I would love to see Mario at Leicester"
Alan Young
"No Way !"
Matt Green
"Waste of money. How hard do the other strikers work? No chance of getting the same from Balotelli, he's only interested in a pay packet & would upset the dressing room"
And perhaps the BEST comment goes to Richard Meats…."As a long Time long suffering fan I am having to pinch myself here a) that leicester city would even be linked with a player like this b) that fans wouldn't want a big name like this and c) I agree with them…. Shows what a long way we've come !!"
Click HERE to read ALL the fans comments
Although he IS a maverick for sure, he can score some great goals… check out his highlights from the last 8 years….