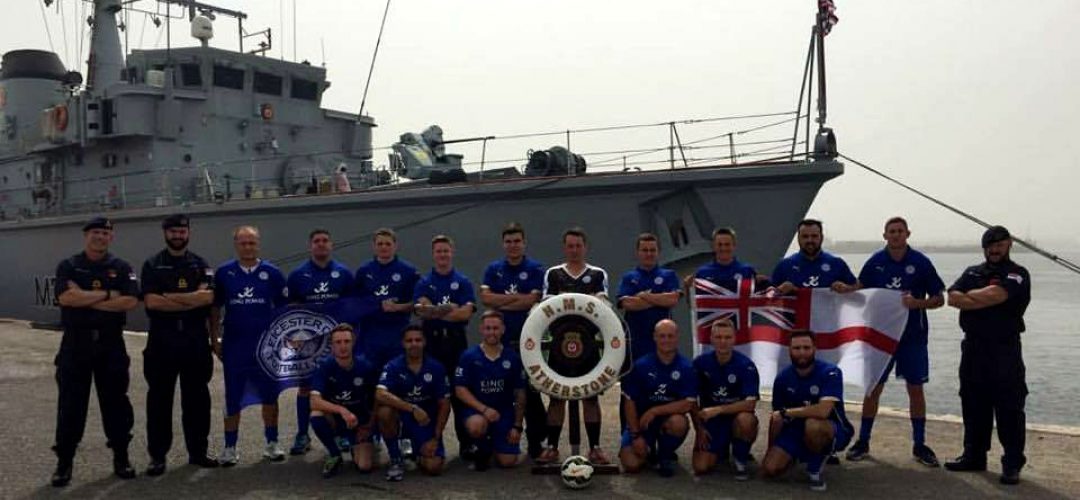 We all stood side by side at the King Power stadium and shared a minutes stunning silence in memory of the brave men and women who have given their time and for some their lives so we can enjoy football and our lives of freedom.
But not EVERY Leicester fan could make it to the fantastic win over Watford.
We were contacted after the game by City Fan Tapan Patel, who is on board HMS Atherstone, who sent us this brilliant photo of the lads in their City kit…. makes you proud eh !?
Tapan tells us…
"Respect from all the lads on HMS Atherstone on deployment in the Middle East
Our ship's kit is worn out, so we asked Leicester City to send us some new kit….. and they did.
This is last season's kit used in a charity celebrity match ( including Ian Beal)"
HMS Atherstone FC are :
Front row in the kit: Scott Johnson (forest fan!-fair play) Andrew hardwood (West Ham) Ryan Lewis (Shrewsbury) Ste Owen (palace) joe clark (arsenal) Sean Parker (Hartlepool) Jordan Muscat (man utd) Elliot Jones (Swansea) Daniel adamson (Sunderland) Ryan Chappell (arsenal)
Front row: Ben flintham(Liverpool) Tapan Patel (me! Leicester of course) Nick Taylor-Yates (villa) Ben Phillips (egg chaser) Robbie Matthews (Portsmouth) George Caldwell (Liverpool)
ARE YOU A LEICESTER FAN AND IN THE FORCES ???
SEND US YOUR PHOTOS and We Will SHARE THE BEST !!!!
We have created a NEW section called Leicester Forces FC and we want YOU to be in it !