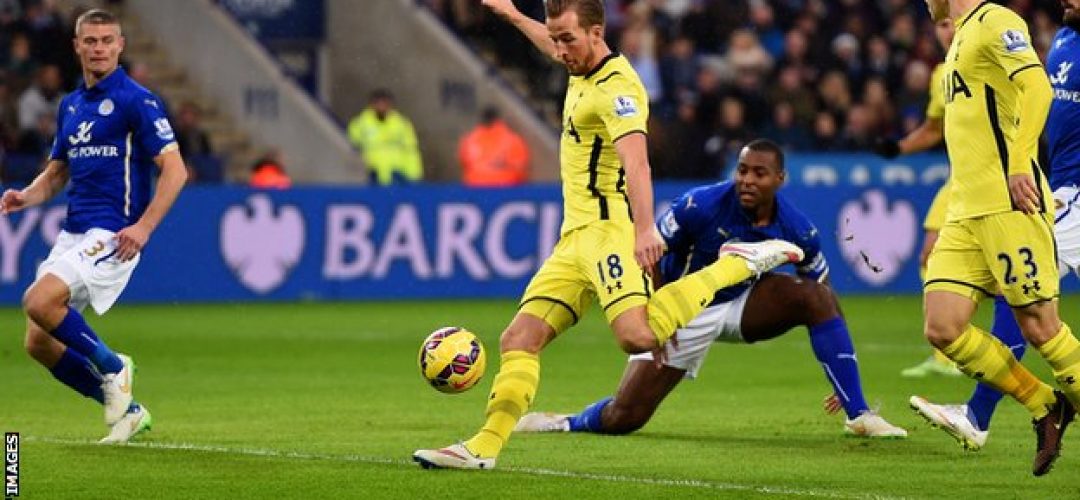 A spectacular free kick from forward Christian Eriksen sealed three points for a resurgent Tottenham side at the King Power Stadium. Harry Kane's first minute strike had earlier been cancelled out by Leonardo Ulloa's first goal in three games. City fans can take the positives, however, from what some perceive to be the side's best performance since beating Manchester United.
Following the game, Foxes' boss Nigel Pearson bemoaned what he saw as a 'frustrating defeat', citing missed chances and refereeing decisions as the latest in a string of unlucky moments for City.
The Key Moments:
GOAL: Harry Kane (0-1)
Spurs got off to a dream start when Harry Kane poked the ball over an onrushing Ben Hamer to give his side a first minute lead. After finding himself in acres of space on the left, Nacer Chadli hit a low cross which was well controlled and finished by Kane. Foxes fans will have one question – why were Spurs afforded so much time and space so early in the game?
Leicester City had clearly made an effort to 'get at' Tottenham early on and put pressure on them, much akin to the way Liverpool started games last season. However, the plan backfired as Spurs regained possession and quickly transitioned from defence to attack to break on City's back line; they were offered no protection by their midfield colleagues.
The interpretation of the offside law was once again called into question as Harry Kane strayed behind City's line during the attack although the ball was never played directly to him. It can be argued, however, that he was affecting play by forcing defenders – notably right back Danny Simpson – to cover him, leaving the left flank free for Chadli to charge down.
Once the ball was played into the box, Wes Morgan appeared to have done well by getting goal side of eventual scorer Kane. Problems arose as he then struggled to reverse his direction when the ball was played slightly behind him. Spurs' number 18 then did well to get himself goal side of the City defender and took a neat touch that left him with just Ben Hamer to beat. Fans around the ground accepted the inevitability and almost turned away before in-form Kane rifled home.
Perhaps one or both of City's central midfielders could have sat a bit deeper and offered a bit more protection to their defenders, or Wes Morgan could have turned quicker to put a block in. In truth, however, City need to take some risks in order to change their fortunes and they won't always pay off. They were going to have to throw men forward at some point and accept the risk of conceding. Doing so early on gave them 89 minutes to try to get back into the match.
MISS: Danny Drinkwater (0-1)
After driving forward, Drinkwater found himself running at a gaping hole between Spurs' two centre backs with seemingly the goal at his mercy. He chose, however, to hit the ball with his weak foot and pulled the shot comfortably wide. It looked as though he had time to shift the ball onto his stronger right side before hitting it but was perhaps looking to catch out Hugo Lloris; the Frenchman has been in fine form all season.
MISS: Leonardo Ulloa (0-1)
Ulloa must have thought he was in dreamland as he rose to meet a teasing cross that was placed precisely onto his onrushing forehead. However, with the goal at his mercy, he crashed his header onto the inside of the post and it eventually rebounded clear. Either side of 'keeper Lloris – on target – and the net would have been bulging. In truth, for a forward who's strength is arial balls, it has to go down as a poor miss. Had that chance fallen when he was scoring regularly towards the start of the season, the outcome may have been different. A possible lack of confidence and the weight of pressure will have contributed to one of the game's best chances going unconverted. Encouraging signs of the Argentine finding space in the area to create the chance will leave City fans hoping Ulloa can start to get himself regularly knocking balls in with his head again soon.
HALF TIME
GOAL: Leonardo Ulloa (1-1)
Fantastic work from Riyad Mahrez gave Ulloa the opportunity to atone for his earlier miss and he dutifully slotted the ball in at the near post. Algerian Mahrez showed fantastic awareness and pace to chase down a blocked cross and regain possession near the byline before picking out Ulloa, who had showed fantastic strength to stay in front of his man as he waited for the pass. Mahrez did not disappoint and rolled the ball into his feet where he showed that he is still a more than capable goalscorer as he tucked the chance away.
Encouragingly, this was a well worked goal that will give hope to Leicester fans. City retained possession nicely and Mahrez looked sharp as ever when he chased the ball down to set the chance up. Spurs fans will, however, be disappointed in their team as Nabil Bentaleb appeared to make no effort to close down the loose ball or block off the chasing Mahrez and Ulloa was allowed to stand static at the front post without a substantial challenge.
MISS: Riyad Mahrez (1-1)
Jeffrey Schlupp earned a free kick approximately 25 yards out and up stepped Riyad Mahrez to hit a shot. An incredible curling shot rose above the wall and had Hugo Lloris beaten but agonisingly clattered into the crossbar, so close to a wonder-goal.
There was little else Mahrez could do as a matter of inches kept Spurs from going behind. It was a piece of magic from a player who has shown many times in the past he is capable of producing something special to turn a match around.
MISS: Jeffrey Schlupp (1-1)
So often criticised for a lack of final product, Jeffrey Schlupp showed why he is rated so highly by the youth academy at the club with a good run and shot across goal which Lloris did very well to tip wide for a corner.
GOAL: Christian Eriksen (1-2)
A free kick in what appeared to be a crossing position led directly to the Tottenham winner as Eriksen curled in a fantastic strike at the near post to round off a good performance. Leicester fans can feel very disappointed with their team's defending as they continue to be lacklustre from set pieces.
David Nugent departed a two-man wall far too early leaving Eriksen a much easier angle to curl the ball in and Ben Hamer will think he could have done better to push the ball around his near post. The shot bounced off of a wet surface just in front of Leicester's back up keeper – who's deputising for injured Kasper Schmeichel – which it could be argued increased the difficulty of the save.
MISS: Wes Morgan (1-2)
Riyad Mahrez knocked a low cross along the face of the goal which Wes Morgan did all he could to get on the end of. It would've been just the luck City needed had the ball eventually rolled in, after it bizarrely cannoned into the sliding Morgan's arse! In a similar position to the own goal he scored against QPR, the Foxes skipper this time found himself unable to put the ball into the net.
FULL TIME
Final Thoughts
Memorable Moment – Harry Kane shushing Leicester fans following his early goal despite receiving no mass abuse and having previously been at the club.
Leicester MOTM – Jeffrey Schlupp showed what he is capable of with a game full of positive forward runs showing strength and pace as well as finally delivering with his final ball. He is expected to be called to the AFCON with Ghana but will hope to continue that form for Leicester while he is still in England.
Referee Performance –  Leicester were denied a couple of penalty shouts but in truth they looked soft and the officials had a solid day overall. Fouls in the middle of the pitch were well policed and the game never descended into a scrappy match. However, repeated fouling seemed to go unpunished in terms of cards and Jamie Vardy controversially picked up a booking chasing down a long ball that it could be argued he had every right to go for.
Team Performance – 7.5/10; a performance where City finally showed glimpses of their early season form. Quick, sharp passing and playing the ball out of defence demonstrated the confidence this team still have. However, they're weakness from set pieces will cost them their place in the Premier League if they find themselves unable to sort it out soon. They were also yet again guilty of not converting their chances and Pearson and his team will no doubt continue to work on improving the teams attacking prowess. Individual errors yet again undermining a strong team performance that perhaps deserved all three points, let alone none at all.