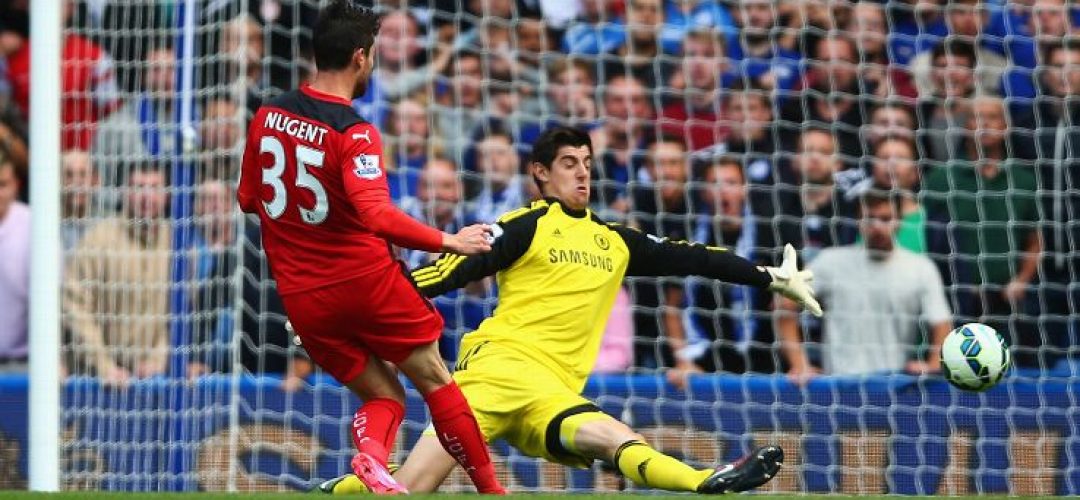 With the Premier League season reaching its half-way point and the tough festive period coming to an end, the time has come to take a look back on how 'new boys' Leicester City have coped so far. As of writing, they sit bottom of the Premier League with just fourteen points and cannot climb out the dreaded relegation spaces with one result. However, that will not dishearten a team who have shown they have the ability and belief to challenge even the biggest teams in the league.
City's turbulent season started at their home – the King Power Stadium – with a hard earned point against an Everton side who were, at the time, touted as Europa or even Champions League contenders. Substitute Chris Wood calmly slotted in a late equaliser to secure a brilliant start to the campaign. Next was a visit to title favourites Chelsea where, despite a 2-0 loss, Leicester were far from embarrassed. Had David Nugent applied the finish when sent through one-on-one, the biggest of shocks could have been on the cards.
League Cup next and a tie against League 2 outfit Shrewsbury Town. Injuries and squad rotation meant City sent out a significantly weakened team with a number of under-21 players finding themselves in the starting 11. Despite that, it was still disappointing to see them stumble to a 1-0 loss to crash out of the cup at the earliest opportunity.
Back to the league and a televised tie against Arsenal, continuing City's tough start to the season. Arsenal's star man Alexis Sanchez gave them the lead but City striker Leonardo Ulloa pulled that goal back just three minutes later, planting his head on the end of a Jeffrey Schlupp cross. Ulloa had a golden chance to win the game when he cut back inside onto his right foot but narrowly missed his effort to chip the ball over the 'keeper.
It may not have been a rainy Tuesday night, but Stoke away was still a tough fixture for the Foxes, who were high on confidence following a surprisingly strong start to the season. City defended resolutely with debutant Ben Hamer turning in a strong performance and a delightful Ulloa finish, from behind his body, secured three points for City. 
Then came without doubt the best result of the season so far. Manchester United, on the back of spending close to £200m in the summer, threw away a two goal lead to lose the match 5-3. Few, if any, would have predicted that a newly promoted side could outscore household names such as Wayne Rooney, Radamel Falcao, Robin Van Persie and Angel Di Maria. On that day, Nigel Pearson served Louis Van Gaal a tactical lesson, his side lining up in the now infamous 'diamond midfield' shape that was to later cause so much unrest with the fans (for a deeper look into this, click here). Some even spoke of this as the best result in the club's history. A big statement, perhaps, but those who filled the King Power Stadium that day will never forget the sight of Jamie Vardy rolling in the goal that gave City the lead and eventual win.
A disappointing away loss to Crystal Palace was followed by a home tie against Burnley, who joined the Premier League in the summer along with the Foxes. Sean Dyche's team had gone five games without a goal going into the match and, almost inevitably, broke that duck against Leicester. Despite taking the lead twice, City left the game with just one point. Kasper Schemeichel faced criticism for his positioning during the 96th minute free kick that gave Burnley their draw. It was a draw they deserved after dominating the second half against a nervous looking Leicester team.
It was the start of a disastrous run for City, with losses to Newcastle, Swansea, West Brom and Southampton to follow. Both the Newcastle and West Brom results could be viewed as unlucky, but they were truly outclassed by Southampton and particularly Swansea. City failed to find any sort of rhythm in South Wales and, live on Sky TV, left the game empty handed.
A bore 0-0 draw at home to Sunderland threatened to be the start of a revival, especially when Leicester then started well in the following fixture; they scored early on against Harry Redknapp's QPR. Esteban Cambiasso's fourth minute strike brought relief to a team who hadn't scored for over 500 minutes themselves, and the second was well taken by the often-criticised Jeffrey Schlupp. It was not to be, though, as a Wes Morgan own goal helped Redknapp's side to a 3-2 win.
Yet more losses followed in quick succession; Liverpool, Aston Villa, Manchester City and West Ham all took three points from City in the lead up towards Christmas. Negative feelings were starting to spread to some of the fanbase, culminating in a heated and controversial incident where boss Nigel Pearson told a fan to 'f*** off and die'. However, many came out in support of the under-pressure manager including fellow professionals and fans. The so-called 'softness' of Pearson's punishment – a one game touchline ban – was perhaps contributed to by this support.
It was after that defeat to Manchester City – a loss that saw them slip to the bottom of the league – when Director of Football Terry Robinson was relieved of his duties at the club. This offered a potential insight into the boardroom at Leicester City and was seen as a show of faith in manager Pearson. Many thought, and continue to think, City's summer recruitment was not up to standard. However, there were many players City were linked with that never materialised as transfers; one such example is Graziano Pelle, now doing well at Southampton. This sacking suggested that perhaps Robinson, in his role of finalising transfers, hadn't negotiated as well as the club wanted. This could mean that City missed out on some of their targets, an idea reinforced by the amount of time it took to get the Esteban Cambiasso deal completed. As a side note, it will be interesting to see who Pearson targets now he (reportedly) has much more control over his transfers.
However, it was the traditional Boxing Day fixture that frustrated Leicester fans the most. Despite a mammoth 22 shots and, in the eyes of most, dominating the game, Leicester slipped to another defeat against Tottenham Hotspur. Ex-loanee Harry Kane scored in just the first minute and Christian Eriksen's free kick proved to be the winner after Ulloa poked in at the near post. Yet more heartbreak for Leicester and the ever-important festive period looked to be treating the Foxes badly.
Then followed a visit to fellow strugglers Hull City. When Riyad Mahrez cut inside onto his left foot and glanced up at goal, it looked an extremely tough ask to put the ball in the back of the net. The Algerian showed why he will be missed so much when he flies to the AFCON tournament when he did just that – finding the bottom left corner from signficant distance. A flurry of late chances were spurned by Hull and Paul Konchesky's red card made Leicester's task no easier but they clung on for a long awaited win. The Foxes had played well and finally got the luck they so badly needed to pick up three points that delighted the fans. The joy on the faces of the players at the final whistle showed just what it meant to the team too.
Lastly, an away trip to Anfield, home of in-form Liverpool, completed the festive fixtures for City. Wes Morgan must have thought he was dazed from impact when a ball that clearly struck his face led to a Liverpool penalty – given for handball. Steven Gerrard converted cooly, as he did when a second penalty – again for handball – was given. Leicester showed confidence and spirit, however, during an incredible fightback that saw them score twice in two minutes to take a point from a very tough fixture. David Nugent's scissor kick was borderline exhibitionist as he struck the ball with the outside of his boot to curl it in. Jeffrey Schlupp scored the second, an accurate drive into the bottom right and City looked the more dangerous towards the end of the game. Although they may feel they could and should have had three points, Leicester should not look down on a hard earned point against last season's runners-up.
And that takes us to now. Still bottom, but seemingly at the start of what could become a revival. It's too early to say that City have turned this one around but they certainly look in better shape than they did two weeks ago. The Foxes faithful will hope results continue to come their way and they can become just the third team to escape relegation after being bottom at Christmas. It might be cliché but in football, anything can happen.