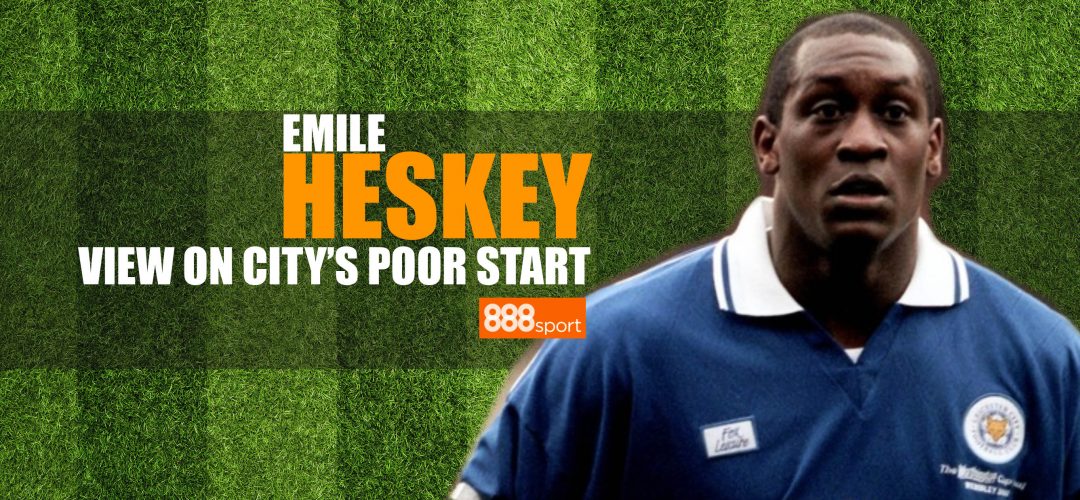 The guys over at 888sport allowed us to get a few fans questions into club legend Emile Heskey, and after a turbulent week at the Club it was a good time to hear his views…. Emile Heskey, speaking exclusively to 888sport …..
It has been a tough start to the season for Leicester; what do they need to do to get themselves back up the League where they should be?
"It has been a tough start for them but it was never going to be easy. You're in the Premier League at the end of the day so all games are going to be tough. They need to start taking opportunities when they come and when you're got players like Slimani, Mahrez, and Vardy then Leicester will create chances. After that it's about believing in themselves and taking them. It was a tough start last season too but they kicked on and I think they'll do the same again."
Have Premier League defenders become wise to Jamie Vardy's pace, and now play a deeper line against him?
"They've cottoned on to how to defend against Vardy but he's still got a lot to offer. His game isn't just about running in from behind and he can still get it into his feet, turn and run at teams and just causing all sorts of problems. Which is great."
How does Vardy go about re-capturing his form that saw Leicester win the title?
"It's about being confident in your own ability and this is where the manager comes into play. He gives you that confidence and you then feel you have the backing of that manager and that he trusts you."
Riyad Mahrez is obviously an outstanding talent; how do Leicester get the best out of him?
"It's time that he got the best out of himself because at the end of the day it's about him isn't it. Whether he wants a move or not he's still got to produce and go out there and perform. He's done that reasonably well but there's a lot of onus put on his shoulders because of the performances he has put in in previous years. "
Your godson Darnell Johnson is now at Leicester, how is he getting on and what do you see for him in the future?
"He's doing well. He's a European Championship winner so already he's done a lot more than certain people have during their whole careers. In the future it's about putting in performances in the 23s and hopefully getting an opportunity to go out on loan to show that he can one day be a star for Leicester.
Darnell also won the U19 Euros Championship with England in the summer; do you see him as a future full international?
"Yeah, why not? If he shows that on loan and when he comes back to Leicester why not?"
 Are there any other outstanding talents in the academy that you would pick out?
"Harvey Barnes has gone out on loan and done very well. There's a lad called Josh Gordon who is a left-footed striker. I watched him in Hong Kong and his hold up play and ability to create chances for himself in tight spaces is very proficient."
Is going back to work at the Leicester academy something that you would be interested in?
"It's where I came from so I wouldn't say no but getting an opportunity there is totally different to me wanting to work there isn't it."
Is management something that you would consider going into in future? Would managing Leicester be the dream job for you?
"Not right now. There is no stability in management so for me personally it's not on my agenda. "
Leicester travel to a mid-table Swansea on the weekend; can they get the three points to kick-start their season?
"Definitely. If you look at the Premier League everybody has the capability to take points off everybody. They just need to go into it positively thinking we can. Defensively we need to be solid especially being away from home. But attacking wise being away probably suits our game a little bit more because we play counter-attacking football. Home teams have to be on the front foot and push forward."
Favourite moment at Leicester?
"I was looking at my goal against Norwich the other day. I'd pick that one but only because it's fresh in my mind right now. We were 2-1 down and I came on as a sub, set one up and scored the other one. Dave Nish was the caretaker manager at the time and getting an opportunity to play was great."
Which match does the remember the fondest and why?
"Probably the 3-3 Arsenal game. Dennis Bergkamp scored the best hat-trick ever but we managed to get a draw. I scored that day as well. "
Who was the best player he played with at Leicester? Best ever strike partner?
"It's difficult to say who was the best but I'd probably say Muzzy Izzet had the most impact. Coming from Chelsea's reserves when nobody knew who he was and then becoming one of the best players in our history is phenomenal. I'd say Muzzy for that achievement but we all gave something special.As for strike partners probably TC. He spoke to me a lot as a young kid and gave me lots of advice so I'd say Tony Cottee. Steve Clarridge was another one as well who I formed a great partnership with. "
The fans always hoped you may return to Leicester towards the end of your career – did it ever get close to happening?
"Yeah it did. I had an offer but at the time it just wasn't right for me and then when I wanted to come back it wasn't right for the club and manager. It just wasn't to be."
Read the full 888sport interview with Emile Heskey, including his thoughts on how to get the best out of Riyad Mahrez