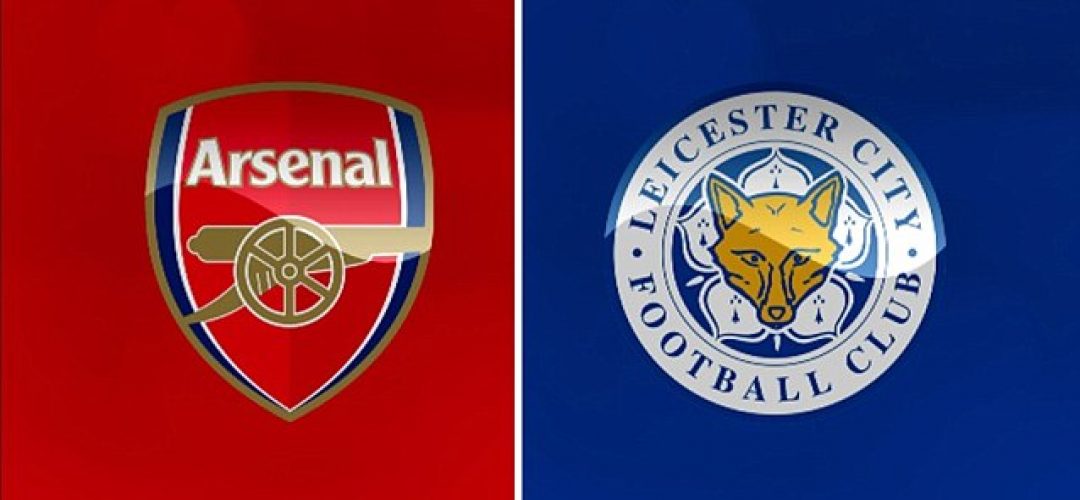 So So So So So So close !! Arsenal punished Leicester with the last kick of the game, and our Fan Reporter SCOTT DAVIES brings you the viewpoint from the stands….
ARSENAL 2-1 LEICESTER – Report By Scott Davies 
Leicester visited the Emirates having not won a League game v Arsenal since November 1994 (P19 W0 D6 L13) when goals from Ian Ormondroyd and David Lowe either side of a 19th minute Ian Wright penalty gave City the 3 points in the ill fated first Premier League season for the Foxes.
Claudio Ranieri stayed faithful in this Valentines fixture naming an unchanged XI for the 6th game in a row, the longest run since Arsenal in May 2015 (also 6 games).
As the game kicked off, Arsenal started strongly and early possession fell to the Gunners who tried to push for a quick goal and they went close following a corner in the 2nd minute as Sanchez put the ball wide of the left post after Oxlade-Chamberlain crossed from the set piece. City soon settled and grew into the match, Vardy had a glorious chance on 16 after Albrighton swung the ball into the the England Number 9 who headed down, only to see his shot well saved and gathered by Peter Cech.
Arsenal looked to be utilising the recent good form of Giroud as all attacks were going through the Frenchman, however Morgan and Huth were dealing with his physical presence with relative ease. Fellow Frenchman N'golo Kante went close on 39 as he delivered a cross come shot which almost caught out Cech, however the Czechoslovakian shot stopper clawed the ball wide for a corner.
It was Kante again who broke forward on 44, however he was upended by Laurent Koscielny, but the ref played on as the ball broke to Vardy. The 29 year old England man ran into the box and tried to round Monreal, but he was upended by the Spaniard and the ref pointed to the spot. Vardy stepped up as the new spot kick taker after Mahrez was relived of his duties following 2 penalty misses in January and he dispatched the spot kick with power and accuracy as Cech dived the wrong way. Hardy has won 6 penalties this season, twice as many as any other player in the Premier League.
City went into half time leading and as things stood they were 8 points clear of the gunners, 8 clear of Spurs and 9 clear of Man City with the latter playing each other in the 16:15 game at the Etihad.
As the second half started, City looked comfortable as all the pressure was on Arsenal. Simpson picked up a booking on 49 for a clumsy tackle on Sanchez, however it was disappointing to see the Arsenal man simulate a yellow card to the ref. 5 minutes later things turned sour for the Foxes as Simpson picked up an unwanted card on this romantic holiday, receiving a red, following a second booking for what looked like a harsh decision by the ref.
Simpson was holding Giroud by his arm, however it was by no means a terrible foul or dangerous, but in the eyes of the ref, he saw it as a second bookable offence and City were down to 10 men. It was the first red card for City for 50 games, the last being Matty James v Aston Villa last season at the King Power.
Riyad Mahrez was the man to make way for the inevitable change following Simpsons red and Wasilewski came on at right back. What was puzzling though, is that on 61 Damarai Gray came into the fold for Okazaki, when perhaps the Japanese striker should have made way for Wasilewski a few minutes earlier, leaving Mahrez on.
It was going to be a huge ask for City to keep out Arsenal who were desperate for the points in this must win game and Theo Walcott came on to bolster the Gunners attack. It paid off just 9 minutes later as the England forward smashed home a close range shot after a Giroud headed pass in what was their first shot on target in the match. City battled away with Kante and Drinkwater bossing the middle, but Arsenal kept coming as you'd expect against the 10 men of Leicester. On 83 Danny Welbeck returned to match action following a lengthy spell on the sidelines.
Schmeichel looked to have saved a point for City with a tremendous stop on 88 from Olivier Giroud as the Dane palmed away a vicious turn and shot from Arsenal's number 12, however it wasn't to be and it was late heartache for the battling Foxes.
Wasilewski had a sudden rush of blood to the head and he conceded a foul in Leicester's final third. Ozil delivered a teasing ball into Welback and the former Manchester United man headed the ball past Kasper Schmeichel sending the Emirates into a frenzy and it was pretty much the last action of the match as City fell to only their 3rd defeat this season, with it being the second defeat to Arsenal. Incidentally, that was Arsenal's 100th 90th+ minute goal in the Premier League, more than any other side. (And people used to talk about Fergie Time!)
Foxes hearts were broken after they battled so hard for what looked to be a fantastic point away from home. That said, we are 2 points clear at the top going into the final game of February and the dream is very much still on. I was disappointed to see some City fans pointing fingers of blame at individuals on some open source outlets.
Yes Simpson perhaps was a bit silly, yes Wasyl had a rush of blood, yes Ranieri may have made a puzzling substitution, yes Drinkwater might have held the ball up in the corner instead of crossing it in the 90th minute out for a goal kick, but come on, we are 2 points clear at the top, 12 points clear of 5th, we will have to capitulate to give up a top 4 finish which is beyond any of our wildest dreams.
Strap yourself in and enjoy it, this is far from over and I have said many times I refuse to believe, but after that today, I actually believe more than ever we are capable of winning the league. Mark my words, this will fuel the fire within us and the taste of this defeat will spur us on. Get behind the boys, Foxes Never Quit!
Man of the Match – N'Golo Kante